Now, you have a great new source for finding Mother's Day gifts, Christmas surprises, birthday or anniversary presents, or just because gifts.
The talented artisans at the family owned VitaJuwel company in Germany are committed to helping people live better lives with purposeful, intentional products. VitaJuwel ViA personal reusable glass water bottles help cut down on global waste from plastic bottles. The decanters, and VitaJuwel Dispenser Grande are unique and practical home or business decorating accents. All the gemstones that are encased in the VitaJuwel glass products, including the diamonds are fairly traded and ethically sourced.
What Makes VitaJuwel Products Unique?
Using gemstones to energize water is an ancient practice. VitaJuwel perfected this art by patenting a design to encase gemstones in water. Energy from gemstones is diffused through glass Gem Pods and Vials which can result in softer, more drinkable, water. Although some people put gemstones directly into water, some gemstones are toxic, so you need to do some studying if you are the DIY type.
Here's a list of VitaJuwel specific terms so that you can understand the products better. Interrelated products are listed together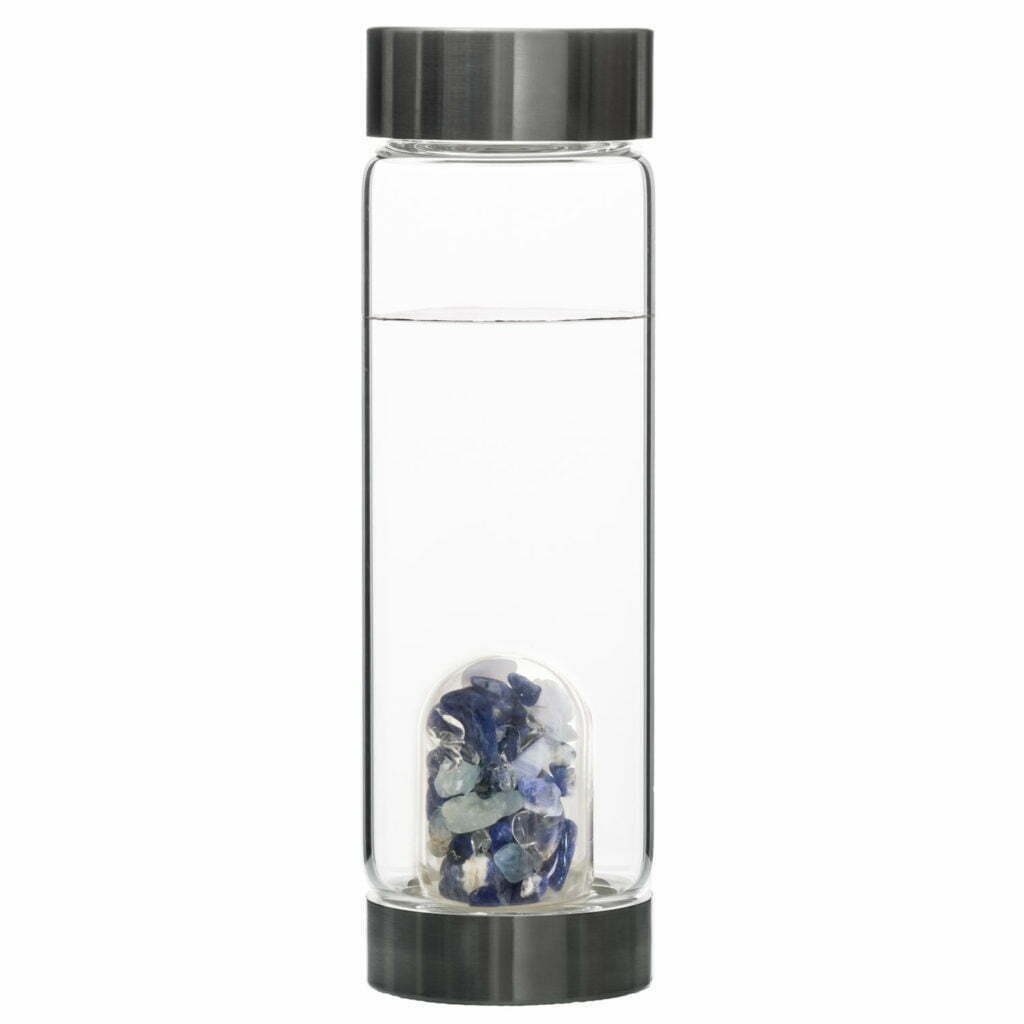 The personal, hand made, lead free, gem water bottle, into which the Gem Pod is placed. The bottle holds almost 17 oz. of water (with the Gem Pod in it) and is 9" from top to bottom.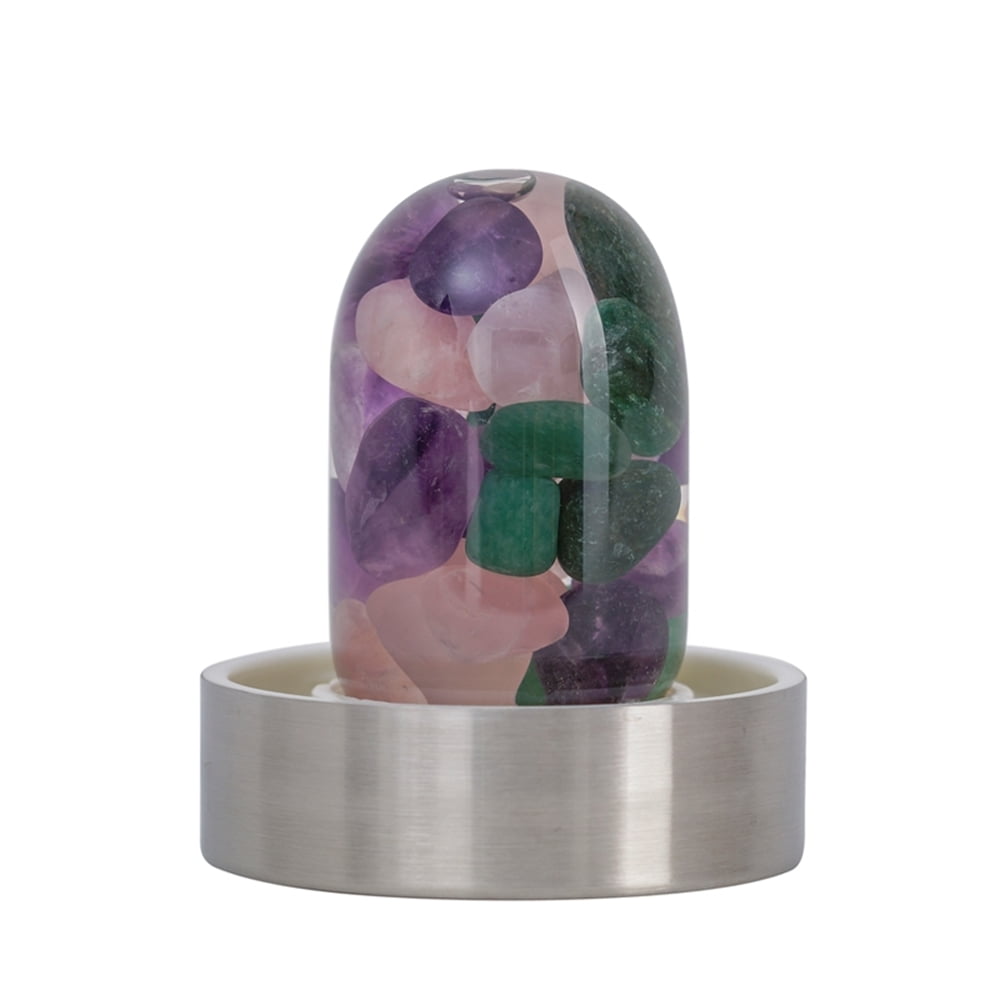 Gems permanently encased in a small, rounded, patented capsule that is screwed to the bottom of the ViA personal gem water bottle.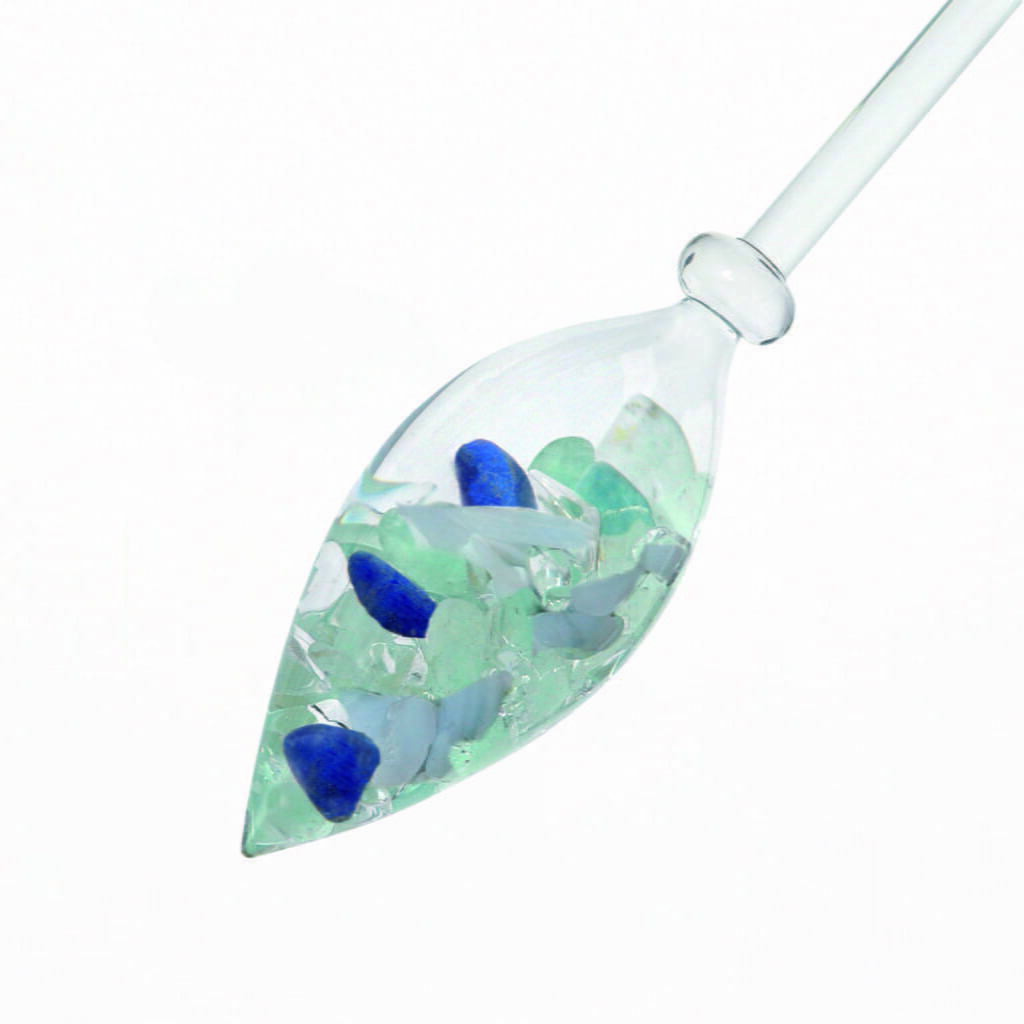 A glass handled wand, approximately 14" long, that has gemstones encased in glass (candle flame shape) at the bottom of it. The gem Vials are placed into decanters and the Dispenser Grande.
Two gallon countertop water dispenser with a spout on the bottom. This dispenser can be used to serve water to families or large groups such as in hotels or spas. A stationary gem Vial is beautifully featured in the center of the Dispenser Grande.
VitaJuwel countertop or desktop pitcher that allows for a Gem Vial to be held stationary within it. The decanter is about 15" from the bottom to the top edge of the spout and holds 44 ounces of gem water. The spout has openings in it which allow for refilling and pouring without removing the Gem Vial.
How to Choose a VitaJuwel Product as a Gift
Your biggest decision will likely be which gem blend to get. Gem blends were created with a certain compatibility in mind and each of the VitaJuwel gem blends has a wellness intention associated with it. Two things to keep in mind are that you cannot go wrong with any of the VitaJuwel blends and that you'll probably want more than one VitaJuwel product, even if you purchase them one at a time.
When you're picking your first gem blend, it's not a be all and end all decision. Our best customers from The Wellness Enterprise have two or more VitaJuwel products and around five different gem blends. You can pick a gem blend based on the name of the blend or simply because you like the colors. Remember, there are no bad choices, so you can't go wrong.
If you're choosing something as a gift, ask yourself: What colors does the person like? What challenges are they facing right now? (If you're also purchasing something for yourself, you can ask the same questions to choose a blend.)
Gem Blends that Feature Certain Colors
Gem Blends that Help with Certain Challenges
Energy – Balance, Momentum, Vitality
Wellness – Fitness, Sunny Morning, Wellness blend,
Inspiration – Beauty, Inspiration blend, Love
Focus – Balance, Focus blend, Five Elements
Clarity – Focus, Diamonds, Inner Purity
Here is a list of the gem blends that are available in the Gem Pods for the ViA personal water bottles and the gem Vials for the decanters, pitchers and large counter-top dispensers.
5 Elements – amethyst, chalcedony, petrified wood, rose quartz, ocean chalcedony – for grounding
Allure – garnet, clear quartz – for attraction
Balance – sodalite, clear quartz – for stability
Beauty – amethyst, aventurine quartz, rose quartz – for joy
Diamonds – diamond slivers and clear quartz – for clarity
Fitness – red jasper, magnesite, clear quartz – for strength
Focus – red jasper, sodalite, orange calcite, agate, aventurine quartz – for concentration
Golden Moments – rhinegold, halite salt, garnet – for staying present
*Infinity – sodalite, clear quartz, ocean chalcedony, aquamarine – for love and compassion
Inner Purity – aquamarine – for cleansing
Inspiration – lapis lazuli, rutilated quartz – for creativity
Love – rose quartz – for affection
Momentum – chalcedony, moss agate, milk opal – for stamina
Passion – carnelian, halite salt – for intensity
Sunny Morning – orange calcite, clear quartz – for positive outlook
*Tea Time – chalcedony, moss agate, milk opal – for serenity
Vision – noble shungite, clear quartz – for insight
Vitality – emerald, clear quartz – for energy
Wellness – rose quartz, amethyst, clear quartz – for health
*These blends are available in Gem Pods for bottles only
For the Wine Lover in Your Life
VitaJuwel wine decanters, Vino gemstone Vial, the Gemstone Droplet and handmade glasses are perfect gifts for wine lovers. The special Vino blend of amethyst and clear quartz helps reduce acidity in wine for a smoother, more palatable taste.
Step-by-Step - Choosing a VitaJuwel Product
Choose the products that you want, ViA personal water bottle(s), Era Decanter (pitcher) or Wine Decanter.
Choose the ViA bottles with the gem blends that you like and add them to your cart. You can choose by the name of the blend, color of the blend or by type of stones you may be familiar with.
If you're ordering an Era Decanter (pitcher) pick a gem Vial (wand) that you like that will go Era Decanter (pitcher).
The Wine Decanter has it's own special Vino gem blend in a Vial (wand). Make sure you order the Decanter and the Vino gem Vial (sold separately).
Decide if you need any accessories, like the Tea Strainer or Hugs bottle holder and then Place Order.
If you have any questions, contact The Wellness Enterprise for support.
*Trust your intuition. The gem blends that grab your attention first are a good choice.
Note: If you're ordering the large Dispenser Grande, choose the gem Vial (sold separately) that will go into the Dispenser.