Agriculture is the most important industry around the globe. The most crucial resource needed to fuel this industry is water. But the age-old subject of water conservation hasn't done much to remedy the problem farmers are facing: they need an affordable way to grow healthy crops and save their resources. Structured water, also known as vortexed water, magnetized water, EZ water, and H3O2, is a newly discovered molecular structure of water that is revitalizing crops and revolutionizing water management. The benefits of structured water for agriculture include decreasing water usage by 30%, increasing crop yield, maximizing soil health, and lowering production costs. 
Structured Water Revitalizes Soil Like Rainwater
Not all water is created equal. We all seem to know that nothing refreshes soil and plants quite like rain. But why is rain better? Interestingly, rainwater is not just H2O. It has a different molecular arrangement, H3O2, that is only found in nature where water is exposed to energy and can build an electrical charge. 
H3O2 is easily absorbed by plant cells because of its electrical charge. Cells don't have to use their own energy to absorb the water like they would with water that was not structured. Plants can absorb more water when it is structured and can spend more of their energy on growing. 
How do we know this? Dr. Gerald Pollack at the Pollack Lab at the University of Washington discovered H3O2 while studying living cells and noticed water behaved differently inside them. The water inside the cell was more like a gel and each cell had to convert H2O into H3O2 to utilize it. Structured water is the type of water inside all living cells, so giving plants structured water is providing water they can readily absorb! 
Why is Groundwater Not the Same as Rainwater?
Rivers, waterfalls, ocean waves, sunlight, organic material, plant material, and minerals all create energy that helps water become structured. Water loses its charge and structure when it is forced through pipes or exposed to chemicals. It becomes what is considered "dead water." That's why plants don't respond to irrigation like they do to rainwater.   
Benefits of Structured Water for Agriculture
Structured water is what would be considered a new technology in agriculture. Though many have seen great results, new technologies still need real testing. So, in 2019, two crop consultants in West Texas conducted some tests with structured water on three cotton fields. 
Structured water devices were attached to the end of the hose before the sprinkler head every 300 feet on a pivot irrigation system. Soil hydration and salinity levels were tested throughout the growing season on each field with soil probes and a soil content measuring system. The results concluded a 20-30% decrease in irrigation water usage, increased yields, a reduction in salinity, and an overall thriving cotton crop.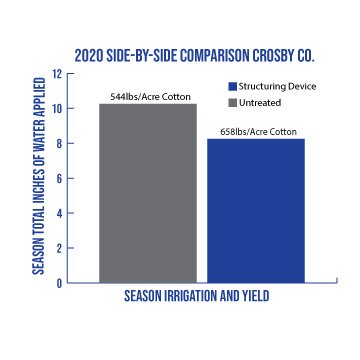 Results of field trial done in 2020 on side-by-side fields in Crosby County. One field had no structured water devices, and one field had structured water devices every 300 feet. Moisture and salinity levels were monitored throughout the season. The field with the devices produced more cotton with less water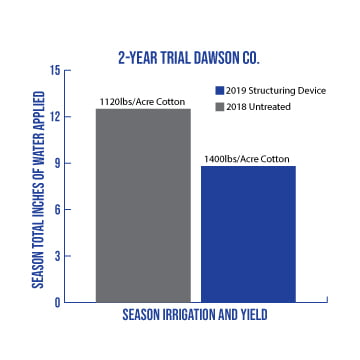 Results of the two-year field trial in Dawson County on one field. 2018 was monitored without structured water devices and 2019 was monitored with structured water devices. Less water was needed to meet crop demand in 2019. Yields were increased.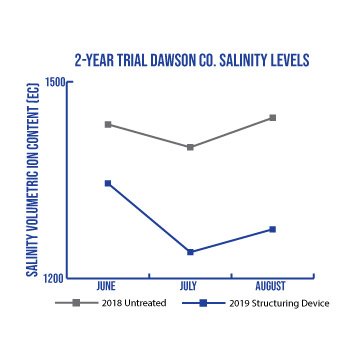 Results of the two-year field trial in Dawson County on one field. 2018 was monitored without structured water devices and 2019 was monitored with structured water devices placed every 300 feet. Salinity levels were reduced greatly in 2019 versus 2018 during the growing season in salty ground with salty water applied.  
Decrease Water Usage by 30% by Improving Infiltration Rates
Jeff Miller, one of the crop consultants, noticed during the trial that infiltration rates were much improved. The soil could soak up water within a few hours of watering with a pivot sprinkler, rather than almost a day. Structured water was contributing not only to soil absorption, but also lessening evaporation. 
Lower Soil Salinity Levels
The soil and groundwater where the trials were performed was very salty. Jeff Miller noted that soil salinity levels actually went down while watering salty soil with salty water. The reduction in salinity lowered stress on the plants as they grew over the season – a result that only happens in a high rainfall season. 
More Testing with Structured Water for Agriculture
Lower Production Costs with Structured Water for Agriculture
Decreasing water needed to irrigate while also increasing yield with structured water for agriculture lowers production costs because of the ability to save irrigation water. In addition, the equipment needed to create structured water is relatively low cost. Structured water devices are roughly $11 an acre on a pivot sprinkler with a warranty of five years. 
Chad Wall, founder of Natural Ecosystem Restoration, talks about the affordability of structured water and its impact on regenerative agriculture in this interview with Gina Bria, founder of the Hydration Foundation. 
Get Structured Water in Your Field With the AQUA ENERGIZER™
There are many options to get structured water where you need it for your crops. AQUA ENERGIZERS™ are the first and only structured water devices certified to create H3O2. AQUA ENERGIZERS are designed to promote optimal hydration by revitalizing water and raising its energetic frequency. They are handmade with quality materials of copper, crystals and minerals. 
AQUA ENERGIZERS come in different size diameters based on your needs for water and irrigation systems.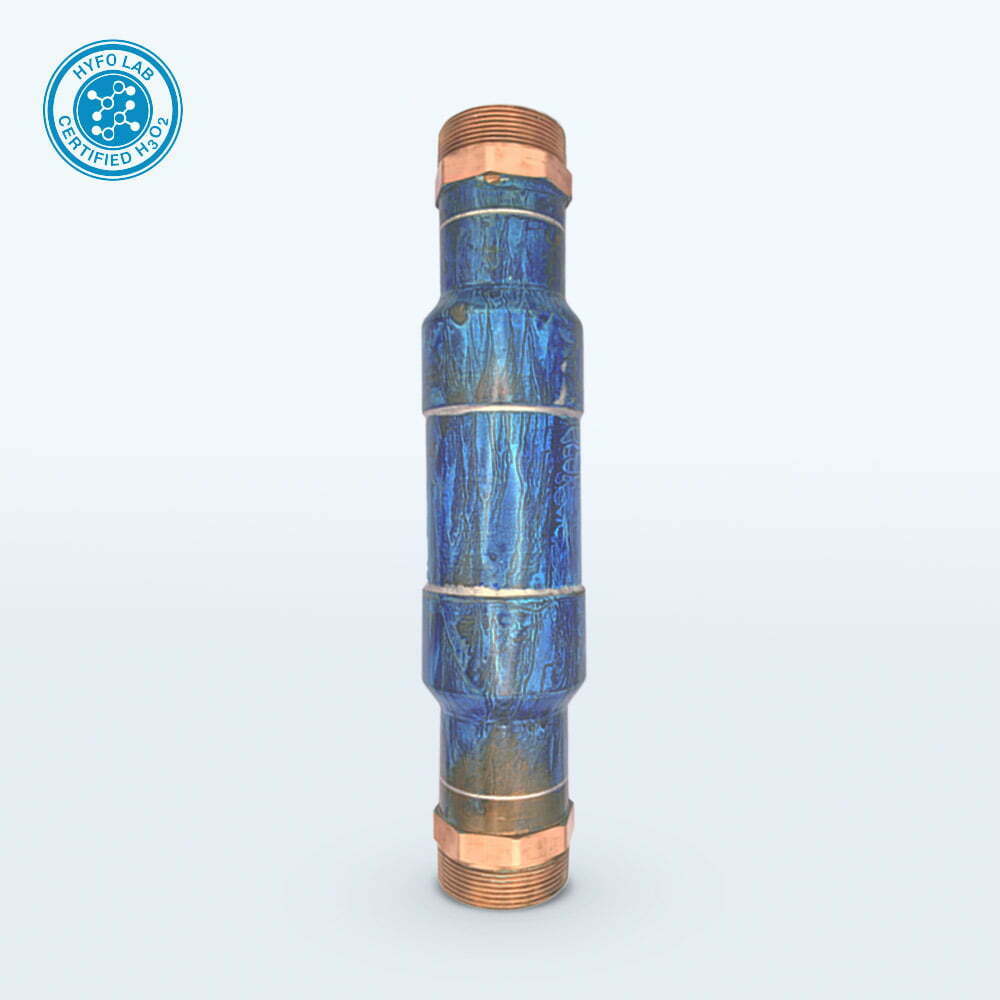 The AQUA ENERGIZER industrial devices are currently available for 3″ and 8″ pipes with other sizes such as 4″ and 12″ available upon request. To enhance industrial applications such as subsurface drip irrigation, commercial farms, ranches, orchards, vineyards, and green houses, consider the 3″ AQUA ENERGIZER industrial device.
Revitalize your crops and save on production costs with structured water. Take the stress away from depleted water wells and salty conditions so you can prosper in your farming operation. Structured water could very well be the solution to water conservation in agriculture around the world.