Installation Instructions
Thank you for ordering your UMH Master from The Wellness Enterprise, Inc. We are here to support you.
To the right is the UMH Pure Under Sink Device.  There are two most common ways to install your UMH Pure.
Installing on the Cold Water Line
The pieces in the photo below are all you will need to install the UMH Pure under sink on a cold water line.  The inventor recommends if the device is installed vertically then the water should go in from the side opposite side of the pyramid. If the device in installed horizontally then the water should go in with the side with the pyramid first.  Simply turn off your water, disconnect the braided hose between your water supply and the cold water portion of your faucet.  Apply plumbers tape as needed.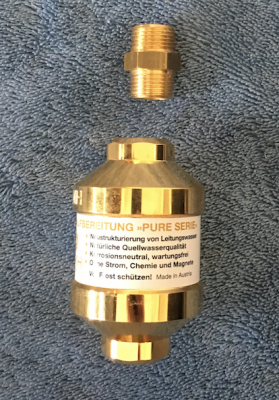 Connect the fat threaded bottom of the device to the part where your braided hose was just connected.  Insert the ⅜"s to ⅜"s nipple into the top of the device. Reconnect your braided hose to the top of the nipple.  Again, apply plumber's tape as needed.  Turn on water slowly and look for leaks and tighten the appropriate connections as necessary.  We recommend using a licensed plumber for your installation and many people choose to install the UMH Pure under sink themselves anyway.
Installing After a Water Filter
Quick connect fittings that are adaptable to ¼" and ⅜" flexible tubing are included with your order.  To install the under sink device on a flexible tube, begin by inserting the two green washers pictured below into the ends of the under sink device.  Next, screw in the quick connects.
Notice the quick connects have two parts that can be separated to adapt for ¼" or ⅜" tubing.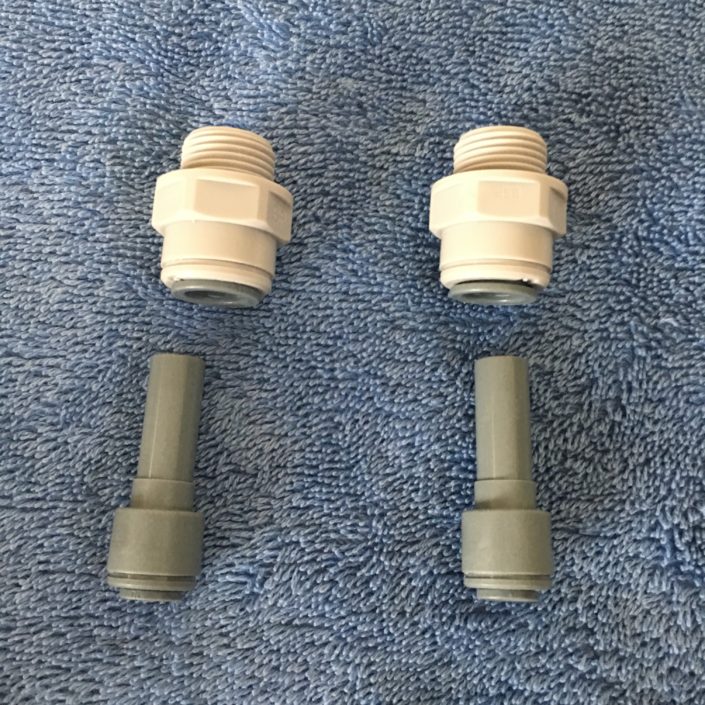 Once complete simply cut your flexible tube and insert the ends into the quick connects.
Installing the UMH Under Sink with the UMH Remineralizer
For those who order the UMH Remineralizer use the piece pictured below to connect the Remineralizer directly to the UMH Under Sink. Use plumber's tape as appropriate.